Directions
1. Preheat the oven to 350° with a rack at mid-level.
2. In a large bowl, whisk together the melted butter with a little of the sugar until it is well blended.
3. Whisk in the whole eggs one at a time, blending well after each, then whisk in the remaining sugar. You want a thick, smooth mixture.
4. Stir in the remaining ingredients except salt crystals, mixing well.
5. Put the prebaked pie shell on a cookie sheet and set that near the oven. Then pour the filling into the shell. It will be full! Carefully set that in the oven.
5. Bake for 40-50 minutes, or until the center is just set and the top is golden. You may need to use a crust protector to prevent the edges from getting too brown. Cool on a wire rack.
6. Just before serving, sprinkle the salt crystals on the top and serve with whipped cream (if desired). If you're using the sour grapefruit candy slices, cut them in half lengthwise and tuck one onto each piece. (They're really just for show, so skip them if you want to.)
Baker's Notes and Tips and Tricks
When prebaking the pie shell, a couple of things will help the success of this pie. Don't prick the dough with a fork before baking, but instead use a pie chain to hold the crust down (or pie weights).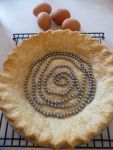 Peek on the crust while it's baking and quickly poke down any spots that are getting too puffy. Be sure to bake it thoroughly, to a nice golden color. Then, when the crust comes out, have the egg white whisked til foamy and quickly brush a thin film of that onto the inside of the crust. The heat will cook the egg white, which will help seal the crust and keep it from becoming soggy from the vodka in the filling. Even with these precautions, this pie is best served the day it's made.
The vodka does not cook off, so this is an adult pie, for sure!