Directions
In a medium saucepan, blend the sugar and cornstarch. Add enough pineapple juice to the reserved pineapple liquid to make 1 ½ cups. Use a whisk to gradually add the juice to the sugar mixture. Bring to a boil (or until it thickens) over medium heat, whisking constantly. Remove from heat.
Whisk the egg yolks in a small bowl. Very gradually add a small amount of the hot juice mixture to the eggs, whisking. Add another ¼ c. of the hot mixture into the eggs, then blend that into the hot juice. Add the butter and stir to melt.
Return to low heat and whisk constantly until the mixture thickens. Don't let it boil! Remove from heat and stir in pineapple and ¾ c. coconut until blended. Set aside to cool slightly.
Toast the remaining ¼ c. coconut in a nonstick pan over low heat, stirring until it's light brown. Remove from heat.
Pour filling into prepared crust and chill for 3 hours or more. When ready to serve, top with toasted coconut...a winsome touch!
Baker's Notes and Tips and Tricks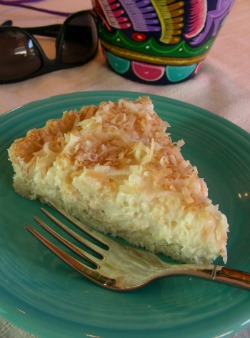 Canned pineapple is easy to come by any time of the year. If you have access to fresh pineapple, by all means, use that! Chop it finely, measure 1 cup, then proceed with the draining process. You may need more of the canned juice to make up the 1.5 cups. Also, this recipe assumes you're using sweetened coconut. If not, you could add a little more sugar to the filling.
Texture: if you like a little cruch, do toast the coconut for the top. If not, just stir in the full cup of untoasted coconut.