Q: The recipe calls for "tapioca" to thicken the pie. There are different kinds of tapioca. Which one should I use? 
A: Generally, if a pie recipe calls for tapioca it's calling for "minute" tapioca. Here's why.
Tapioca is a starch used mainly for thickening purposes, derived from the cassava plant native to South America. The cassava root is processed and dried, then ground to obtain tapioca flour. It is mostly tasteless, has little nutritional value, and is gluten-free.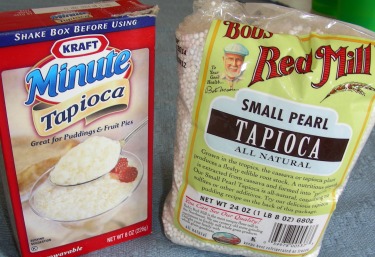 You'll find it most commonly in three forms:
"Pearl" tapioca, which is based on tapioca flour being mixed with water, then cooked and dried into little balls. They are then used in cooking, most often in puddings, other desserts and beverages (such as "Boba" tea). It takes at least 30 minutes to soften the little balls in a liquid before use in a recipe.
"Minute" tapioca, which is the same a "pearl" but crushed into a finer bead, more the size of a large grain of sand. This version cooks more quickly and results in a much more subtle texture, which is why it's used in pies.
The tapioca flour may be combined with potato starch, xanthan gum and other flours, such as rice flour, to create gluten-free foods.
Quick-cooking tapioca, or "Minute" tapioca, still needs time to absorb liquids and soften before it's baked in a fruit pie filling. I recommend mixing the sugar, tapioca and any spices together, then stirring them into the fruit and juices. Be sure to allow time for the mixture to sit for 10-15 minutes before pouring it into the crust and baking. Bonus: That waiting time is a good time to let your crust chill so it's nice and cool before going into the hot oven. Flaky crust, here you go!
One more suggestion! If you are using tapioca in a fruit pie with a lattice crust, mix the fruit, sugar and spices together and then take out ¼ of that mixture and set it aside. Add the tapioca to the larger bowlful and let it rest 15 minutes. When ready to fill the crust, put in the fruit with tapioca first, then spread the remaining fruit mix over that before adding butter and the lattice. This will ensure that no bits of tapioca are exposed directly to the heat on the top of the pie, which can result in dry, hard bits of tapioca that can distract from your beauteous creation.