A: Many tarts call for a pre-baked crust, so let's start with that. To prevent a soggy bottom crust, preheat a cookie sheet in the oven and place your pastry on that to bake. Make sure to bake it long enough that the crust is golden in the center. If the edges are getting done sooner, cover them with a pie crust shield to prevent further darkening.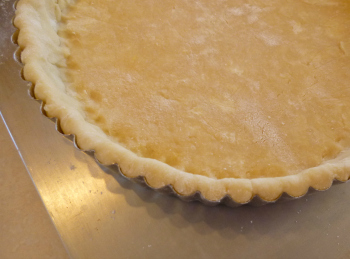 As for the fragile crust issues, one way to deal with that is to roll the dough out so it will extend about ¾" beyond the rim of the tart pan. Trim it to that length, then fold the extra towards the inside, pinching it to fit against the side and inside bottom edge of the crust. See photo. This creates a little stronger outside edge, which is good.
Crusts tend to "poof up" during baking (which is actually a good sign, indicating flakiness). But, you don't want the poofs to take up space where the filling will go, plus poofs would also make your finished tart shell more fragile. To prevent that, prick the pastry with a fork before baking it (ONLY if this is a pre-baked shell, not if you're baking it together with the filling). See picture.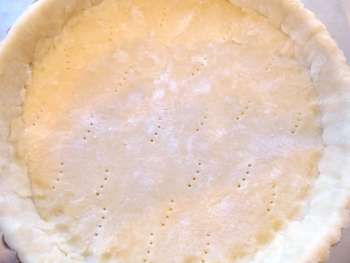 And, use pie weights! (See below.) The easiest solution is to use a pie weight chain, as shown here, because it can easily be removed after baking. The other option is to line the bottom of your unbaked, pricked tart shell with parchment paper and add weights (like uncooked beans). Remove the parchment and weights halfway through the baking so that the inside bottom can cook thoroughly. Early in the baking process (like after 5 minutes), you can check to see if the pastry is poofing up and gently poke any such places with a fork.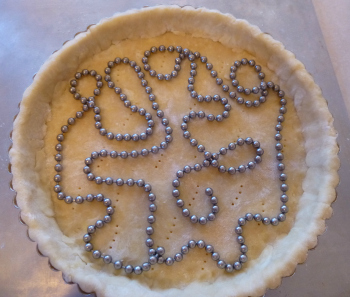 Finally, to prevent soggy bottom tart shells, two things. If pre-baking, when you take the tart shell out of the oven, wait 1-2 minutes then use a pastry brush and apply a little frothy egg white to the inside.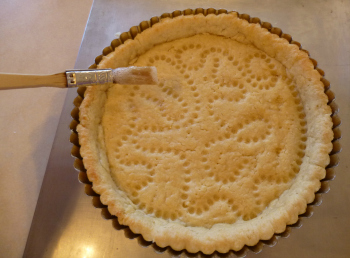 This will essentially cook the egg white from the heat of the pastry and will seal the crust. If the pastry is not pre-baked (and is only baked with the filling), then be sure to preheat a cookie sheet in the oven and place your tart on that to bake. This will ensure that the bottom gets enough heat to bake well, plus it will catch any drips and dribbles that might leak out of the tart!
Yum, go for it.
Rebecca, Your Pie Pal