Directions
1. Preheat oven to 400°.
2. Divide the apples in half and place half in a microwave-safe bowl. Cover and microwave on power level 6 for 5 minutes. Remove to a separate large bowl. Repeat with the 2nd half of the apples. Set the apples aside until they are cooled completely (to room temperature).
3. In a food processor, pulse the red hots until they are pulverized.
4. Combine sugar, red hots, flour, cinnamon and salt. When the apples are cool, sprinkle mixture over them and toss lightly.
5. If using, sprinkle brandy over apple mixture and toss.
6. Line bottom of pie plate with pastry and trim to ¼" past the edge of the plate.
7. Spread the apples in the pastry.
8. Dot with little pieces of butter.
9. Add top crust and cut decorative slits for the steam to escape.
10. Bake for 50-60 minutes or until a rich golden color.
Baker's Notes and Tips and Tricks
I don't usually recommend whipped cream on pie, but in this case it's a very nice complement.
You can make this pie without pre-cooking the apple slices, but you'll end up with an air gap between the apples and the top crust. That's OK, of course. If you do choose to pre-cook the apples, just allow extra time for them to cool off before proceeding with the recipe.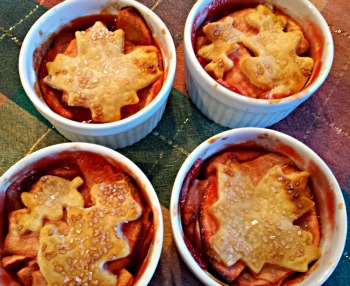 This recipe also fits well into ramekins for individual servings (8). Just cut a circle of dough to fit in the bottom, fill with the apple mixture, add the butter and top crust and bake for about 35 minutes.