A happy anxiety rises in the air as the judging begins. Folding chairs squeak and restless movement settles into a collective forward lean. Attention turns to the former university president's wife, who is holding the mic and who has been running the show, at least at home, for years.
"Welcome to the 2013 State Fair Pie Contest! Today we have16 categories of pies, and 61 pies altogether. They look just beautiful and so delicious!"
Contestants and their friends are impatient for the judging. Four judges work, each one taking one type of pie at a time: first the apple pies, then blueberry, then cherry. Next come the peach, peanut, pumpkin, and pecan. Finally the "other fruits" -- an interesting and diverse bunch, including pears, plums, and luscious apricot hand pies – plus the chocolate and tart entries.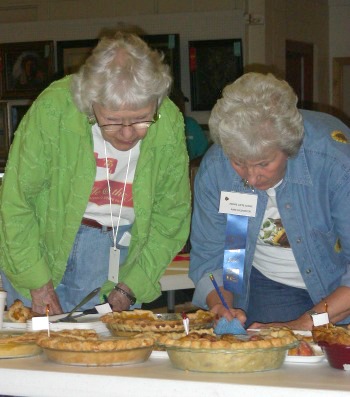 The judges take their time, and ours, considering the pies. They check the bottom to see if it's cooked enough ("No soggy bottoms!"), see how it cuts and holds together, taste the crust, taste the filling, taste the crusts again, all while keeping a poker face. They really do give attention to each pie or tart, noting the strengths and weaknesses, and labor over deciding which ones to honor.
In each case, a third, second and first place ribbon are awarded and winners announced. The best part of the whole thing – well maybe the 2nd best – is how everyone applauds one another. It's the most generous audience you've ever seen.
And the delight, oh, the joy, of winning! Sandy, one of the community of pie bakers who's been entering for years, won "Best of Show." You should have seen the bright sparkle in her eyes when it was announced that her tart won! She was one happy camper, and everyone there was happy with her.
And the best part? Eating pie with friends afterwards. Pie, pie, pie everywhere!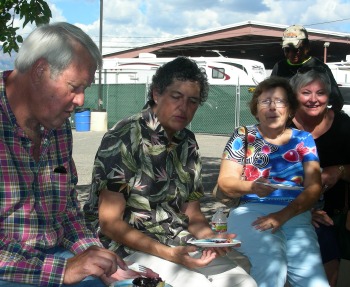 I'm going to ask some of the Pie Pals who were present at the pie contest here to share their ribbons and recipes, so watch for more in the next few days.
I've posted my two blue-ribbon recipes, for peach and rhubarb-raspberry pies. Please help yourself!
Cheers, Rebecca