Take a look at this dough! Oh, my gosh. This was the gluten-free dough after chilling, before rolling. It was a mess: look at how it had crumbled into a bazillion pieces already. Nothing seemed to be holding it together in any way…how was I ever going to roll it out and get it into the pie dish?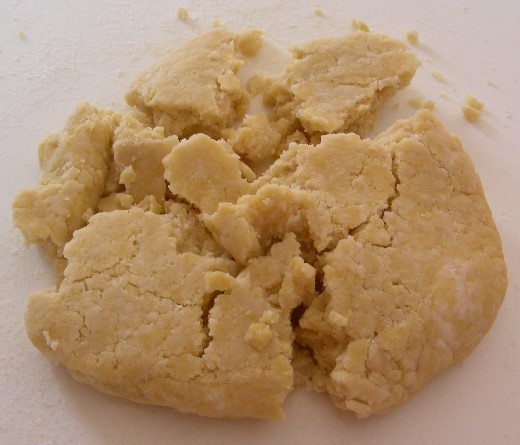 Dutifully, I worked on a cold surface, dusting the rolling pin with more gluten-free flour. But it just cracked and split and went this way and that, with no pretense of "rolling out." This was one radically uncooperative crust.
Finally, I had to get rough with it. I did something I would never do with wheat crust: rolled back and forth, back and forth across the dough, pressing hard. It cracked and split at will, and I could almost hear it laughing at my efforts. I rolled harder. What in the world was going on here and what would hold this dough together? The xanthum gum? The eggs?
With a great deal of persuasion – rough play, really – I got it big enough and loosened it from below. Okay, whew. Then, going into the plate, it ripped into 9 pieces.
Onto Plan B: there would be no lattice on this cherry pie. The top crust would be made into small pieces intentionally and laid on top. Meanwhile, the bottom one was pieced together, pinched and patted and molded with fingers to fit and to form something of a lip on the crust. There would be no folding together of the two crusts, either. Instead, I built up the lip enough to then use a fork and make a little pattern going around the edge. That would have to do. My perfectionist self was getting a lesson in gluten-free realism!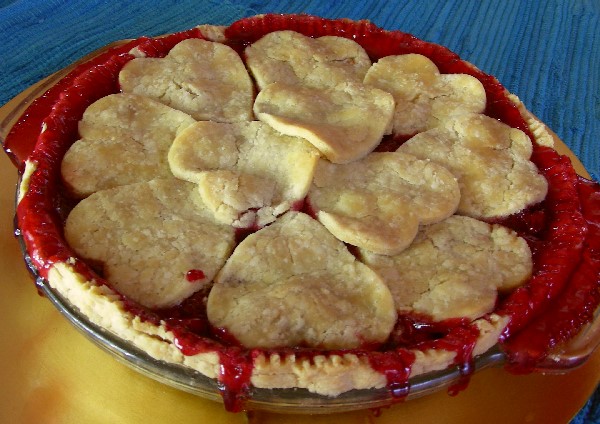 As you can see, the top crust was pieced together by making cut-outs using a cookie cutter. I highly recommend this solution, as it allows you to create an attractive top without the drama of trying to transfer a large, rolled piece of dough intact onto the pie.
The recipe came from a well-known flour company's Web site and featured their own gluten-free all-purpose flour. I'll post the recipe and comments on the results in the next "Deep Dish" blog.
Til then, to your health and to happy gluten-free baking,
Rebecca