It's kind of like looking for love in all the wrong places.
I was on a road trip with three friends recently and, just in time for lunch, we saw this sign on a roadside diner. The whole roadside diner idea was appealing: comfort food, big booths with padded vinyl seating, and a waitress with her name on the back of her belt refilling coffee cups. Perfect!
The sign promised pie, so we checked out the refrigerated pie case immediately, before even being seated. Featured there was a selection of fruit and cream options, including cherry, apple, lemon meringue and coconut cream. The hostess reassured us that, yes, everything was made right there at the diner, just like homemade. Oh, yum! This was going to be fun!
The booths were full of local folks, so we settled down at a wooden table for four in the annex. Sure enough, Betty brought lots of coffee and we ordered everything from country fried steak to enchiladas to a Chinese chicken salad. Everything was pretty good, given that we were many miles from the nearest sources of fresh ingredients.
Then the moment we'd been looking forward to: sharing a piece of pie. There was lots of talk and we finally agreed on the coconut cream, as it did look the most beautiful and all of us were in the mood for few bites of something sweet and blissful. And if the pie was shared four ways, no great harm would come to anyone's diet!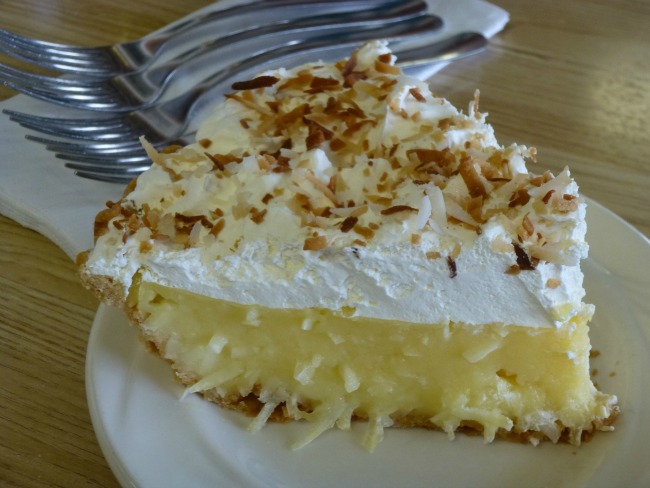 Shockingly awful. I mention this not to disparage the café but just to be real with you about what commercially made pie is like these days. Can you imagine pie so bad that four of us couldn't finish one piece? It's true: the crust was dense and tough, the filling was starchy to the point of gakky, and the topping seemed to be a cross between whipped cream and plastic. Really! We left most of it on the plate.
Do you find yourself looking for good pie and frequently being disappointed by what's served? Me, too.
So, my friends, I'm proposing that we once again commit to making pie and teaching others how to make pie and then enjoying it together. Let's keep good pie alive!
And what do you think about making a list of places in the U.S. and Canada where it's possible to buy a really good piece of pie, based on your experience and judgment? I'd love to compile a list!
Start thinking about where you go for good pie in your area and in the next newsletter (Sept.), we'll set up a system for collecting your personal endorsements and posting them with pictures on a list here at Pie Pals so we can all find that good pie when we're traveling. Who knows? Maybe we'll take more road trips, just for the sake of finding a good piece of pie!
Yours in the search,