Directions
1. Roll out the bottom crust and place in bottom of the pie plate. Trim the edges so that there's about a ¼" overhang, cover loosely with plastic wrap and refrigerate. Keep the other 1/2 of the dough chilling.
2. Place one of the oven racks in the center of the oven, put a rimmed cookie sheet on a lower rack, and preheat to 400°.
3. Put ½ the berries in a medium saucepan and use the back of a spoon to crush many of them. Cook over medium heat, stirring and mashing until about ½ of them have released their juices. Cook and stir until slightly thickened and reduced, about 8 minutes. Stir in the lemon juice. Set aside to cool, about 15 minutes.
4. Mix together the sugar, salt, tapioca, and nutmeg in a large bowl. Stir in the remaining fresh berries.
5. Put the grated apple in a clean kitchen towel and wring dry. Transfer to the bowl and stir, then add the cooled, cooked berries and blend everything gently. Continue to let the mixture cool so that when it goes into the unbaked pie shell it is at room temperature (i.e., not warm).
6. Roll out the top crust. Pour the blueberry mixture into the pie plate, dot with little pieces of butter, and place the upper crust on top. Trim and crimp or flute the edges. Use a sharp knife to create slits to allow for steam to escape (or make decorative holes in the top crust using a small cookie cutter before you put it on top). Use a pastry brush to apply the glaze, if using, and/or sprinkle on a little additional sugar.
7. Bake on the center rack for 30 minutes, then reduce the temperature to 350° and bake another 30-40 minutes until the top is a deep golden color and the juices are bubbling. You will probably need a crust shield halfway through baking.
8. Transfer to a wire rack and cool completely, at least 4 hours.
Baker's Notes and Tips and Tricks
This pie is designed to please those who want a blueberry pie that sets up – one that's juicy but slices well – at the same time that it isn't gelatinous from too much tapioca or cornstarch. It's perfect! The trick is the use of the grated apple, which provides a generous amount of pectin, a natural thickener. The apple, basically indiscernible, also provides some sweetness, allowing less use of table sugar than most fruit pies call for. Another bonus!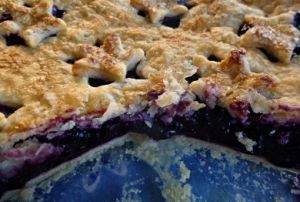 To get the stars on the top crust, I used a small cookie cutter on the top crust after rolling it out and before moving it onto the filling. Then I just put the star cutouts back over the holes, leaving a little room for steam to escape. Using the glaze and a sprinkle of sugaron top makes the pie shine.